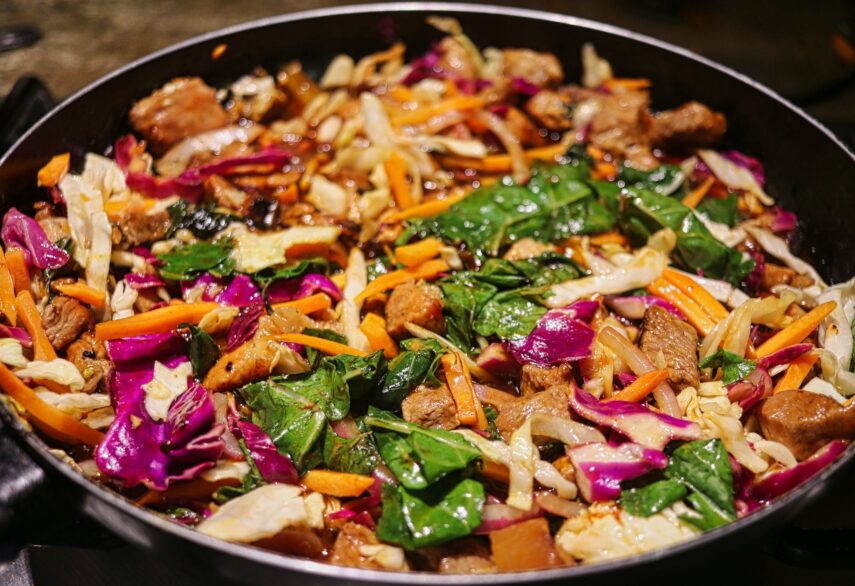 Mood swings and irrational grumpiness. Afternoon slumps that have you reaching for something sweet and a big coffee.
These are all classic signs of blood sugar imbalances – and are not necessarily just part of being a "tired mom".
You deserve to feel vibrant, energetic, stable and focused – but how?
Eating a balanced diet could be the key to most of the symptoms you are experiencing.  Ok great, but what exactly does a balanced diet look like?
A balanced diet is more than just macros, counting calories or eliminating entire food groups.  It's finding what makes YOU feel your best both physically and mentally.  This looks like choosing foods that fuel your body properly and don't leave you feeling deprived. You don't need to sacrifice everything you love in the name of "health and wellness".
When working with my clients it's imperative for me to make sure that they are feeling good about the plan being put together for them and not feeling as though they are being forced into something they can't maintain or simply just don't enjoy eating.  Food should bring us joy and be an experience that feeds our sense – not bring us stress and apathy.
When putting together a meal, I always encourage clients to focus on non-starchy vegetables first.  These can be things such as:
Dark leafy greens like spinach, kale, collards, mustard greens or Bokchoy to name a few
Broccoli, cauliflower, cabbage or Brussel sprouts
Pea pods, zucchini, cucumber, tomatoes, celery, peppers, mushrooms and onions
These are just a few examples!
Next is my favourite area to focus on – protein!
This is where you really want to make sure you are getting enough for your body and lifestyle.  Protein is loaded with amino acids that will be the building blocks for your muscles.  Having a healthy amount of muscle mass is essential to women in all stages of life!
Some of my personal favourites are:
Eggs
Chicken (both breast and thigh meat)
Shrimp and clams
Tough cuts of meat like pork shoulder or beef roasts (which are amazing slow cooked and teaming with the amino acid glycine which is a powerful antioxidant and the key amino acid in collagen)
Adding enough protein to every single meal will be your best chance at maintain a healthy blood sugar level throughout the day. Don't forget protein in your snacks too!
Now we focus on carbohydrates!
This macro nutrient is so very important to your overall energy levels.  Carbohydrates at the body's preferred fuel source. When choosing which carbohydrate to incorporate into a meal I always have clients focus on minimally processed grains. Things like buckwheat or amaranth, quinoa (which is actually a high protein seed, believe it or not!) or even better – starchy vegetables!
Starchy vegetables are a great way to get in the carbohydrates our body still needs but keeps your blood sugar from rising too high too fast (especially when paired with a protein source!).  These would be vegetables that grow below ground (generally) and are things such as:
Sweet potatoes
Turnip
Beets
Carrots
Parsnips
Potatoes
Cassava
I know grabbing a slice of bread or crackers to go alongside a meal seems so much easier. But taking some time a few days a week to prepare some of these starchy vegetables will make a huge difference in your blood sugar levels and your overall well-being **recipes coming soon with my favourite ways to prepare these types of vegetables! **
Finally, we have our fat sources! A side from protein these are my favourite macronutrient in include in each and every meal and snack!  Healthy fats work with the protein to keep you not only fuller longer but feeling more satisfied after your meal.  Plant based fats are my go-to and these include (but are not limited to!) things like:
Avocados and avocado oil
Nuts and seeds (and their butters – cashew and almond are my favourites but try things like tahini in salad dressing for a creamy texture!)
Hemp hearts (also loaded with protein and omega 3's)
Flaxseeds
Organic extra virgin cold pressed olive oil
With all these things in mind let's look at a basic rubric of how this will all fit into a meal.  Ideally your plate (or bowl) will be 50% non-starchy leafy greens, 30% protein, 10-15% carbohydrate and 5-10% healthy fats.  You'll need to experiment and see what works best for your body in terms of carbohydrates and fats.  Some days your body will require more of one thing than another and that's ok – we want you to listen to the cues your body is giving you first and foremost – not just the numbers.
Now what would these meals look like in real life?  I'm glad you asked!  Here are a few of my favourites that I eat weekly:
Stir fry – loaded with veggies like cabbage, Bok choy, broccoli, carrots, onions and mushrooms you really get a lot of bang for your buck with this type of meal. Top with chicken or shrimp, serve with a portion of quinoa and a sprinkle of sesame oil and sesame seeds – yum!
Shepherd's pie – this one may seem odd, but it is so easy to sneak in a TON of veggies like shredded zucchini, carrots, mushrooms and even cauliflower rice. Grass fed ground beef bring in the extra element of added Omega 3's  and then you can top with mashed sweet potato for a little twist.  You could sprinkle with a little cheese, but I find the fat from the meat enough for myself – but again you are your own experiment so see what works for you!
Frittata (crustless quiche) – these are my go-to breakfasts nearly every morning. They are easy to bath cook (one usually lasts me 3-4 days) and are super versatile in terms of flavour combinations.  I love using spinach, leeks, mushrooms and garlic as one version and butternut squash and thinly sliced red peppers for another version. Both of these pair really well with diced avocado on top and a bit of hot sauce!