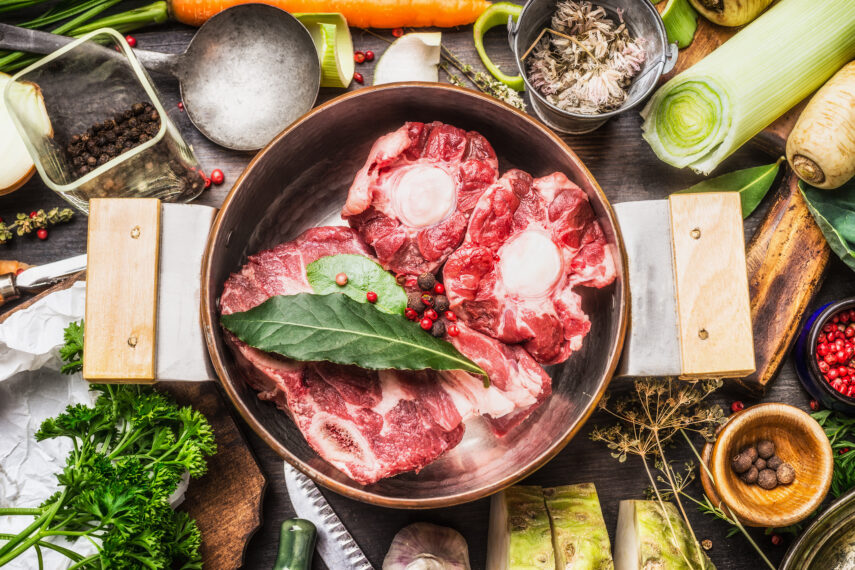 It seems like bone broth is all the rage right now. But what is it and why would you want to be adding it to your daily routine?
Bone broth is made by slow simmering marrow and cartilage-rich bones from usually cows or chickens along with some basic vegetables like leeks, carrots, and onions.
Over the slow cooking process, all the minerals and collagen from these bones diffuse into the broth allowing you to then consume them in a nutritious broth – either sipping it throughout the day or using it in cooking.
Some (possible) benefits of consuming bone broth:
It can help protect your joints – due to its high amount of amino acids it can help reduce swelling in the joints.
It's highly nutritious! Teaming with trace minerals like calcium, magnesium, and phosphorus along with vitamins like A, and K2.
It can help reduce inflammation in the body. Slow cooking the bones allows for amino acids like glycine and arginine to be released into the broth. These two amino acids are very potent anti-inflammatory amino acids and in turn, can help the body when dealing with chronic systemic inflammation.
One of the simplest ways I found to make bone broth is in a slow cooker.
This allows you to let it cook for the longest time possible – usually up to 24 hours but even as long as 48, without having to leave your stove on the entire time.
Bone Broth Recipe
Simmering bones – save those bones from the whole chicken you made for dinner or even ask your local butcher for chicken feet. If you are making a beef broth look for things like joints, knuckles, or marrow bones.
2-3 carrots
2-3 stalks of celery
10-20 whole peppercorns
Bay leaf
Garlic
Apple cider vinegar
Place all your ingredients into a large slow cooker.
Splash a little apple cider vinegar over the bones to help release some of the minerals during the cooking process.
Add enough filtered water to the slow cooker just to cover the bones.
Cook on high until it comes to a boil and then reduce to low for 12-24 hours (the longer the better!).
After cooking discard vegetables, herbs, and bones.
You can strain through a cheesecloth for a clearer-looking broth desired but I usually just use my fine-mesh sieve or basic colander in a pinch.
You can now use this broth for cooking soups, stews, rice, or even just as a warm sipping broth any time of day!
Store any leftovers in the fridge for up to 5 days or in the freezer for up to 3 months.